SONOMA PROMO
INNOVATIVE PROMOTIONAL SOLUTIONS SINCE 1990  – 
A WOMAN OWNED BUSINESS
OUR STORY
Established in 1990, as Sonoma Pins Etc… the company evolved to meet the growing demands of customers searching for solutions beyond the quick turn-around on the shelf inventory.  "Evolve or Perish" became the words to live by as industries moved from inter office memos to internet communications.
OUR AHA MOMENT!
Came in 2001 – Sonoma Pins etc. Corp broadcasts it's new name and quickly became more than an award-winning lapel pin wholesale supplier but an award-winning wholesale supplier of custom 3D Miniatures, Coins and Medallions, Awards, Bottle Openers, Wine Accessories, Patches, Luggage Tags, Silicone Bracelets and Rings, Keychains, Jewelry and Holiday Ornaments.
Offering full service design, production, sourcing, and importing and providing creative and innovative ideas with systems in place to provide high quality, custom designed products quickly and competitively.   Our Hong Kong offices assure quality products made in environmentally and socially compliant manufacturing facilities.
A WOMAN OWNED BUSINESS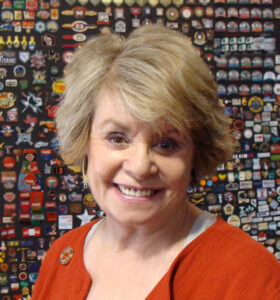 Judith Friedman co-founded this company in 1990. Since then she has been the driving force behind Sonoma Promo.
A strong believer in Mark Twain's famous words "Many a small thing has been made large by the right kind of advertising." Judy (As she is known to her friends) is described as tenacious, risk- taking and everything you expect from a woman who cut her teeth in advertising "in the dark ages on Madison Ave., before the internet."
Sonoma Promo
Award Winning Customer Service
A creative Partner with over 30 years experience
Custom Solutions built from the ground up
Fresh Ideas – Award Winning Products
CPSC Compliant
Inspected Partner factories
Sonoma Promotional Solutions helps you design, create and develop custom products for every conceivable promotional campaign.
We create on-pack promotions, product replicas, concept proto-typing, custom packaging and unique product solutions for all your promotional needs. We are a true promotional solutions provider affording you a time & risk saving benefit in a one stop shopping environment.
PHILOSOPHY
Supporting customers beyond their expectations is the primary philosophy guiding business decisions at Sonoma Promotional Solutions. Our success has been built upon a commitment to total customer satisfaction. This also requires continually developing and improving products and systems to meet changing needs while maintaining the highest level of quality and customer support.
SOCIAL COMPLIANCE & ENVIRONMENTAL MANAGEMENT
We work closely with partner factories to maintain the highest level of corporate social responsibility as required by Kellogg's, McDonalds, Disney, Coca Cola and other high profile and demanding accounts. Regular audits are performed by independent third party teams with a special focus on social accountability and environmental safety.
We demand that our factory partners meet or exceed ISO SA 8000 standards of Corporate Social Responsibility. Independent audit teams confirm workplace and dorm safety, minimum age requirements as well as wage and overtime records. Workers are interviewed in a private setting to confirm a high standard of social accountability. Our higher tier factory partners have achieved environmental/ green compliance through strict production facility practices that are ISO 14001-2004 certified.
PRODUCT SAFETY
Sonoma Promo takes product safety very seriously. We are driven by the extreme product safety requirements dictated by our high profile customers.  Many years before the CPSIA was established and lead content in consumer products became a national issue Sonoma worked closely with a well known retail fashion brand aimed at teen and tween girls to ensure that our custom products far exceeded current state and federal lead/heavy metal content standards.  To comply with the recent Phthalate ban and to increase efficiency we replaced and automated our PVC production line, including all molds, tooling and other possible sources of contamination.
As new safety challenges emerge the team at Sonoma Promo is prepared and will continue to lead the industry in safety and social responsibility.  For more safety information go to:  www.sonomacompliance.com/